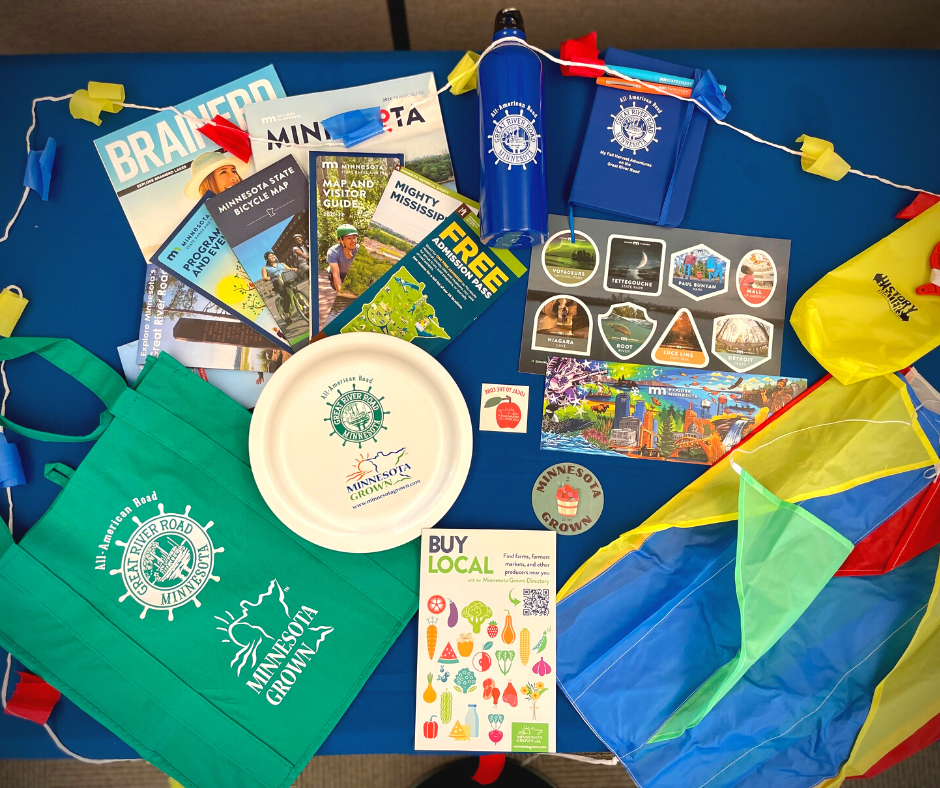 September is Drive the Great River Road month, and this year's theme is a celebration of Fall Harvest on Minnesota's stretch of this scenic roadway along the Mississippi River!
Minnesota's Great River Road is an All-American Road spanning 565 miles, 43 communities, 20 counties, three tribes and six unique destination areas, providing public access to and promoting exploration of America's Great Mississippi River.
As September approaches, we'll be highlighting farms, markets, farm-to-table restaurants, parks, scenic points, commercial districts, lodging options and more all along Minnesota's Great River Road. Stay tuned to our Fall Harvest on the Great River Road page for itinerary ideas and more.
Order a FREE road trip kit below to help you gear up to celebrate the bounty of Minnesota's Fall Harvest along the Mighty Mississippi. (While supplies last.)
Kit includes:
MAPS

Map of the full Minnesota Great River Road with community insets and Interpretive Center photos
Minnesota State Highway Map
Minnesota State Bicycle Map
Minnesota State Parks and Trails Map and Visitor Guide

TRAVEL INFORMATION

Minnesota Grown "What's in Season" guide, with QR code to an online directory of over 1,000 farms and markets across the state
Minnesota State Parks Program and Events brochure
Explore Minnesota State Travel Guide
Brainerd Visitor Guide from the Brainerd Lakes Chamber of Commerce
Winona Visitor Guide

ROAD TRIP GOODIES

Great River Road reflective bumper sticker
Explore Minnesota water bottle sticker
Minnesota Grown/Great River Road water bottle
Minnesota Grown trip journal
Minnesota Historical Society felt tip pen
Minnesota Grown frisbee
Minnesota Historical Society "History Matters" fabric kite
One Free Pass to Minnesota Historical Society historic sites
Minnesota Grown temporary tattoo and magnet
"Winona: The Miami of MN" sticker
Orders are fulfilled once per week, starting August 8th. Questions? Contact us at mngrown.mda@state.mn.us
This project is made possible thanks to the generous support and collaboration of the Minnesota Mississippi River Parkway Commission, the Minnesota Department of Natural Resources, the Minnesota Department of Transportation, Explore Minnesota Tourism, Minnesota Historical Society, Minnesota Department of Agriculture and many other neighbors, farmers, and community members along Minnesota's Great River Road.