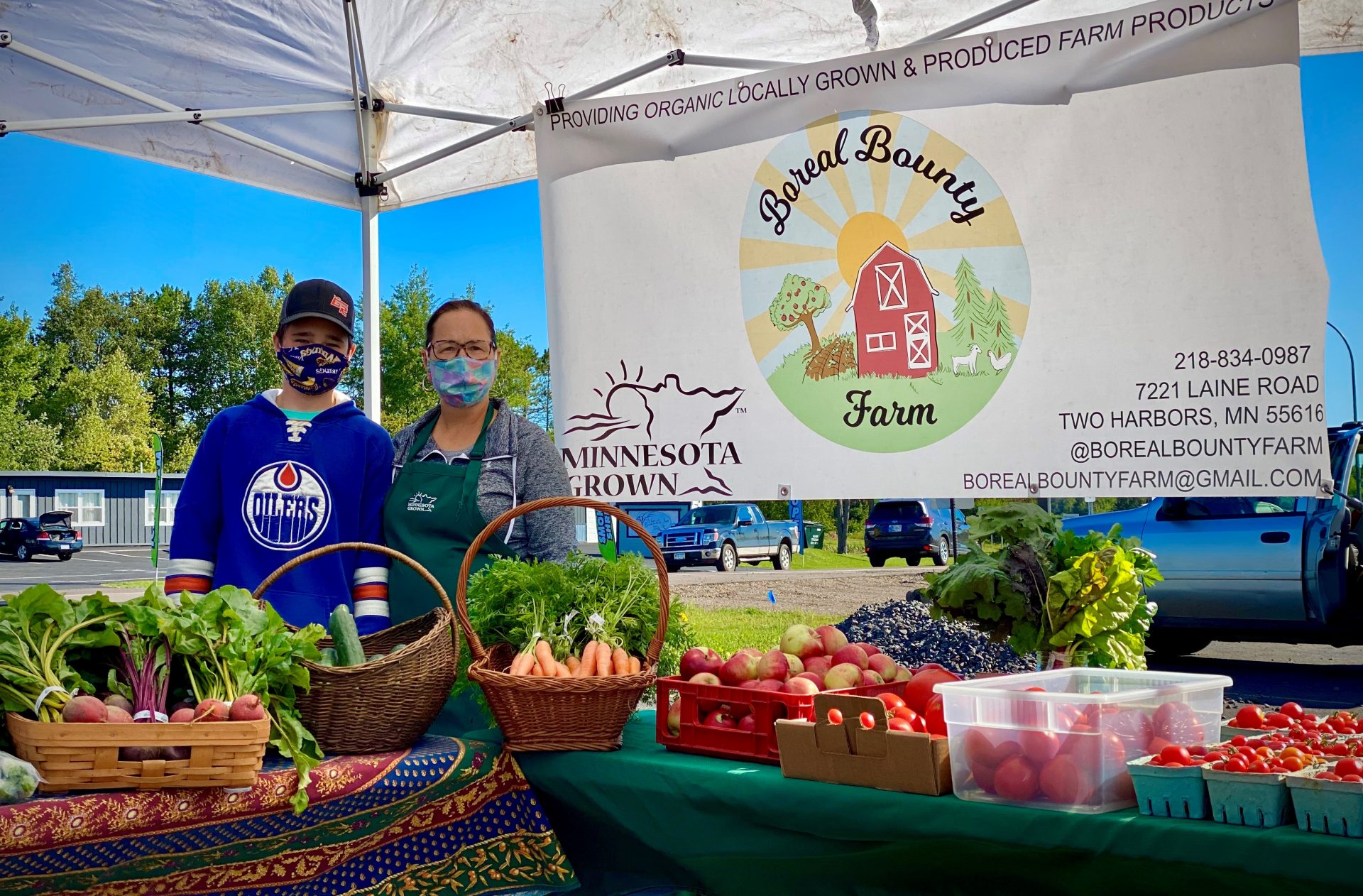 Minnesota Grown is happy to offer our members access to this Cost Share Program. If you would like to participate, become a member and follow the instructions below! Please contact us with any questions at mngrown.mda@state.mn.us
Minnesota Grown Labeling/Signage Cost Share:
If you are developing a new label, tag, bag, box or permanent sign and would like to add the Minnesota Grown logo directly into your packaging or signage design, you may be eligible to receive 50% back on your design and printing costs, up to $300 in the current fiscal year. To take advantage of the program:
Pick a professional printer who works best for your printing needs.
Send a short description of your project and your current Minnesota Grown logo license number to mngrown.mda@state.mn.us to receive eligibility approval, logo use guidelines, and get electronic copies of the logo files.
Complete the project with your printer and have the printer include a final invoice showing proof of payment received from you for the project. You will upload this invoice with the Cost Share Application form.
Fill out the Minnesota Grown Labeling/Signage Cost Share Application form. If you prefer to apply by mail, please contact us at mngrown.mda@state.mn.us or 651-201-6140. We can mail you paper application forms to complete and return by mail.
Fill out the W-9 Request for the Minnesota Grown Labeling/Signage Cost Share Application.
Let Minnesota Grown know if you followed these steps but haven't seen that reimbursement check arrive in the mail within 2-3 weeks. Staff will also proactively reach out to you if they need any clarification on the documents you uploaded.
For more information, see our frequently asked questions below or contact mngrown.mda@state.mn.us with questions.
Participation in this program is based on fund availability throughout the fiscal year and is available to all members with qualifying projects on a first-come, first-serve basis.

Cost Share Frequently Asked Questions:
Where do I send the application?
You can submit application materials electronically to using the forms linked above.
When is the application and supporting documentation due?
Applications and supporting documents are accepted on a rolling basis and applied to the current fiscal year that they are received within. (The fiscal year runs July 1st – June 30th.)
Do I need to be a Minnesota Grown member to apply for this program?
Yes, you need to have a current/valid Minnesota Grown License to participate. (This is an 8-digit number, beginning with 2 _ _ _ _ _ _ _.)
How much am I eligible to receive?
Reimbursement depend on the total cost of designing and printing your labels or signage that features the Minnesota Grown label. This program reimburses 50% of qualifying design/printing costs, up to a maximum reimbursement of $300 per fiscal year, while funds last. The fiscal year runs from July 1 - June 30 of each year.
Where can I find a W-9 form?
Please submit your W-9 form information at the link above. This submits directly to the MDA finance staff who need it to make the reimbursement check.
When can I expect payment?
Requests are processed continuously, as long as funds are available. Please allow 2-3 weeks for processing.
Where can I find the Minnesota Grown label artwork?
Please contact mngrown.mda@state.mn.us for files. You may convert the logo into any color you wish, but the logo must be legible from a reasonable distance for the size of packaging or signage you are creating. The logo shape should not be altered.
Is my project eligible?
Most packaging (labels, bags, boxes, tags) and permanent signs will be eligible. Items like business cards, direct mail pieces, online or paper advertisements, clothing, or flyers are not eligible.
What about demonstrations, tradeshows or sampling?
The Minnesota Department of Agriculture has support for small to medium-sized Minnesota food companies, farmers and ranchers who add value to their products, agricultural cooperatives, and others, to investigate new markets by attending and participating in more local, regional and international wholesale food events, and do more retail product sampling events (demos). Please see Sampling Cost Share/ Tradeshow Support Program for more information.
What about my privacy?
Under state law, we must provide demographic information (like name and address) if asked. We do not release private information, such as social security numbers. We are happy to connect you with the MDA Data Practices manager if you have any questions.