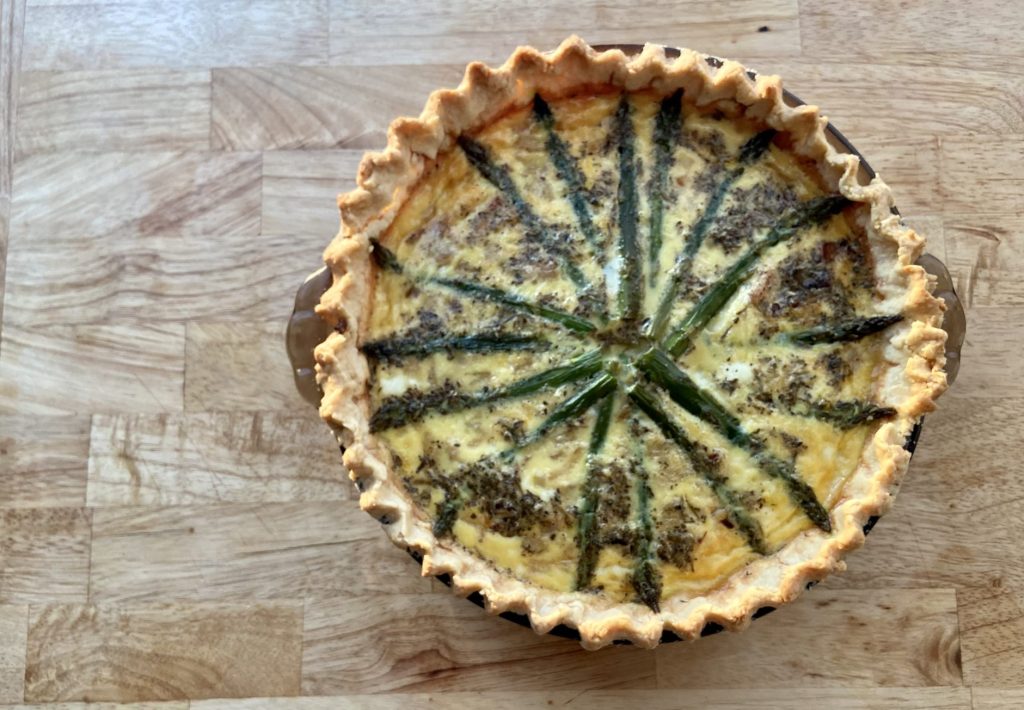 Enjoy the favors of the season with fresh, local asparagus and eggs!
Find this recipe along with other tips and tricks for enjoying the season in the spring issue of Minnesota Grown's seasonal magazine, Living Local.
Ingredients:
1 prepared uncooked 9″ pie crust
1 ½ cups shredded mild cheese – mozzarella, Swiss, or gouda work well
3-4 slices cooked bacon, crumbled (optional)
1 medium yellow onion, diced
1 ½ tablespoons olive oil
16 asparagus spears (roughly one pound)
¾ cup whole milk
6 eggs
¼ teaspoon thyme
¼ teaspoon basil
¼ teaspoon garlic powder
½ teaspoon salt
Directions:
Heat oven to 425° F. Line a 9″ pie pan with the pie crust. Prick the pie crust all over with a fork to create small holes for steam to escape during baking. Bake until light golden brown, 15-20 minutes. Remove from oven and set aside.
Toss asparagus in 1 tablespoon of the olive oil and sprinkle with a pinch of salt and pepper. Spread out in a single layer on a baking sheet and roast in 425-degree oven until the tips begin to brown, 12-15 minutes.
Heat remaining ½ tablespoon of the olive oil in a sauté pan over medium heat. Add onion and sprinkle with a pinch of salt. Sauté until onion softens and begins to become translucent, 3-5 minutes.
Toss cheese, sautéed onions, and crumbled bacon (if using) together in a bowl. Spread the mixture in an even layer in your pre-baked pie crust.
Arrange asparagus spears in a wheel pattern on top of the cheese, onion, bacon mixture.
In medium bowl, beat together milk, eggs, thyme, basil, garlic powder, and ½ teaspoon salt. Pour into pie crust, filling evenly.
Bake the quiche for 15 minutes at 425° F. Reduce heat to 350° F and bake 30-45 minutes more, until center is set but soft and a knife inserted 1 inch from edge comes out clean.
Let rest at least 15 minutes before serving. Quiche can be made ahead and refrigerated up to two days.
Use the Minnesota Grown directory to find local eggs near you! Find Local Eggs