As winter drags on, keep yourself nourished with a hearty vegetable soup. Start with a large pot of vegetables and then add extra ingredients like sausage, beans, or pasta to add richness and variety to your week!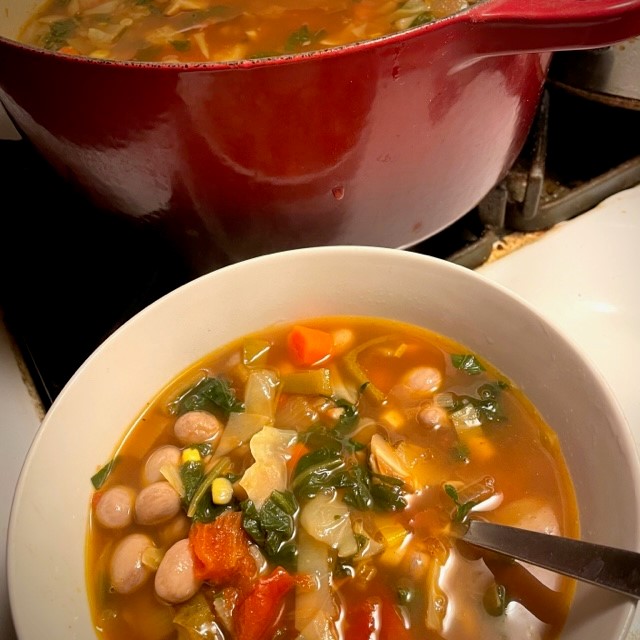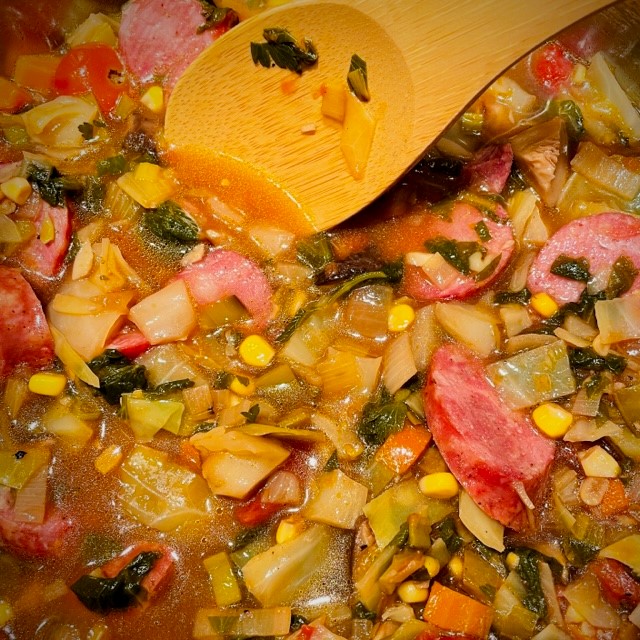 A vegetable soup is infinitely variable and this recipe is meant as inspiration to get you started. Do you love potatoes more than anything? Is there a limp head of celery in your refridgerator? Add them in! Can't stand cabbage? Cut it out. No corn? No worries. Make this soup your own by using up  what you have and adding what you love.
Ingredients:
2 tbsp olive oil
2 tbsp butter
1 large yellow onion
1/4 head green cabbage
2 carrots
6 cups vegetable stock (or chicken stock, or even just water)
14.5 oz can chopped tomatoes
Salt and pepper to taste
16 oz bag frozen spinach
1 cup frozen corn
Optional Add-ins:
Cooked pasta (shells or small tubes work great)
Canned beans (try pinto, cannellini, or garbanzo)
Smoked Sausage
Shredded rotisserie chicken
Directions: 
1. Chop onion, cabbage and carrots into 1/4 inch cubes. You want the vegetables to be roughly the same size when they fit on your spoon.
2. In a large stock pot, heat oil and butter just until butter is melted. Add onions and cook until they start to become translucent. Add cabbage, carrots, and a generous amount of salt, and cook until vegetables begin to soften, about 5 minutes, stirring regularly.
3. Add stock, tomatoes, and salt and pepper to taste. Simmer until cabbage is tender, about 30 minutes.
4. Add corn and spinach and cook until heated through and spinach is wilted. Add additional stock or water if you like a brothier soup. Adjust salt and pepper to your liking.
5. Enjoy your soup as is, or add in any of the additional incredients that fit your fancy. Just add them to the soup and cook for a few minutes until everything is heated through and the flavors meld.
In the first photo above, we started with this basic recipe and added cooked beans.  In the second photo, we added sliced kielbasa.  If using vegetables that need to cook a bit, like potatoes, turnips, or winter squash, add them when adding the cabbage. Toss in more tender vegetables like greens, towards the end. You can also experiment with herbs like thyme or rosemary. Add dried herbs when sauteeing the onions, add fresh herbs (like parsley) towards the end.
Stay warm and eat soup!