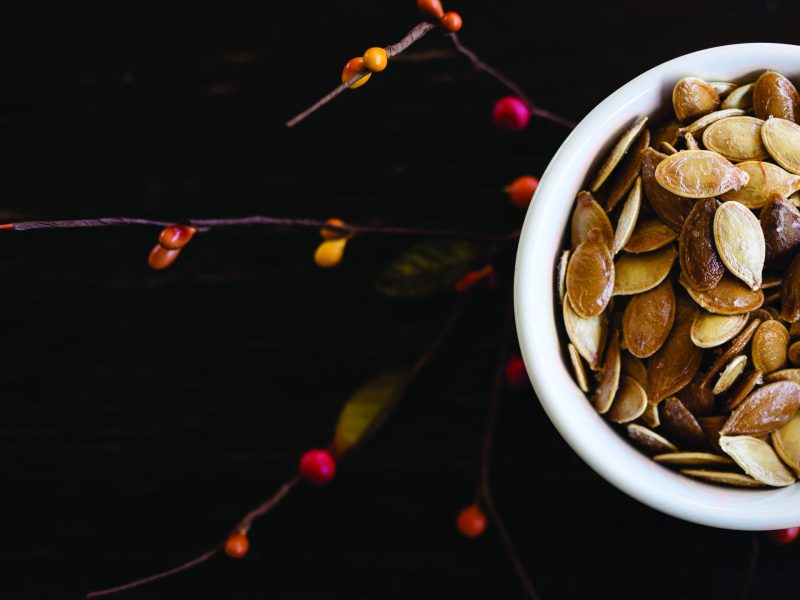 Don't throw out those pumpkin seeds! Pumpkin seeds are high in minerals and omega-3 fatty acids, making them a healthy and tasty snack. They also make a great crunchy garnish for soups, salads, or hotdishes. Customize the seasoning mix to fit your taste or intended use!
Ingredients:
1 ½ cups fresh pumpkin seeds (can be from pie pumpkins, decorative
pumpkins, squash, or a mixture)
2 teaspoons melted butter or cooking oil of your choosing
Salt, to taste
Garlic powder, to taste
Cayenne pepper, to taste
Directions:
1. Separate seeds from pulp, rinse thoroughly to try to remove as much
flesh and fibrous material as possible.
2. Make a salty brine using 1 tablespoon of salt for every 4 cups of water.
Place cleaned pumpkin seeds in brine and soak for 12 to 24 hours. This
step helps give your pumpkin seeds a perfect crunch when roasted.
3. Preheat oven to 300°F.
4. Drain pumpkin seeds in a colander and then dry thoroughly between
layers of paper towels or clean kitchen towels. This will help ensure the
seeds crisp in the oven. For extra crunch, you can even let the seeds air
dry for a few hours before moving onto the next step.
5. Place pumpkin seeds in a large bowl. Add melted butter or oil and stir
to coat thoroughly. Sprinkle with the seasonings of your choice and stir well to evenly
distribute. Go easy on the salt, as the salt brine soak will add some saltiness to the seeds.
You can always add more salt after baking, but over-salting is hard to fix.
6. Spread seeds in a single layer on a baking sheet. Bake 15-30 minutes until golden
brown, stirring occasionally. Watch carefully to prevent burning. Cool and store in an
airtight container.
This delicious fall recipe is featured in the Fall edition of the Living Local publication. Living Local will reignite your love of local foods through seasonal, mouthwatering recipes and the latest info on what is in-season, starting with this fall-themed issue. Order your copy.