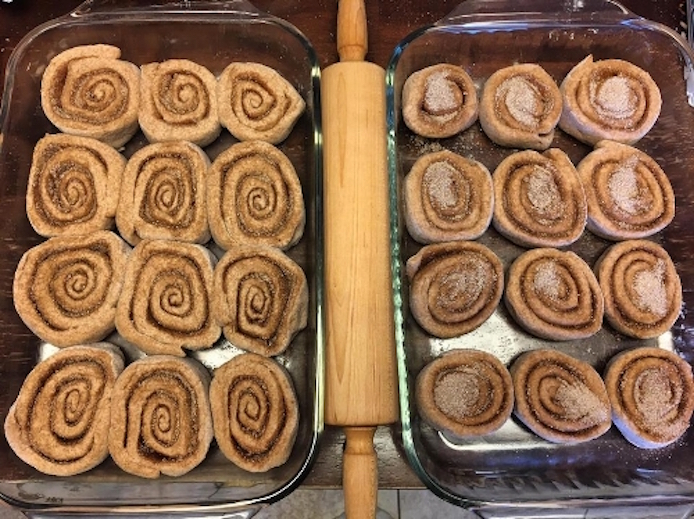 Recipe shared by Minnesota Grown member, Askegaard Organic Farm. Click the links in the recipe to find local ingredients.
Ingredients:
1 package active dry yeast or quick-rise yeast
½ teaspoon sugar
1/8 cup warm water
1 cup milk
¼ cup sugar
1 teaspoon salt
2 tablespoons shortening
1 large egg
2 cups Askegaard Organic Whole Wheat Flour, or other locally grown flour
1 ½ cups all purpose flour
Topping:
1 cup brown sugar, packed
¼ cup margarine or butter
¼ cup flour or cake crumbs
1 to 1 ½ tablespoons milk
2-3 teaspoons cinnamon
Directions: In a large bowl, dissolve yeast and ½ teaspoon sugar in warm water. Let stand 5 minutes. Add milk, ¼ cup sugar, salt, and shortening to the yeast mixture. Stir in egg and whole wheat flour; beat 2 minutes. Gradually add all purpose flour. Dough will be soft and slightly sticky.
Knead until smooth and elastic – 10 to 15 minutes by hand or 10 minutes with dough hook. Place in a greased bowl; turn once to coat. Cover; let rise in a warm place until doubled in size. Punch down dough; cover and let rise again. Punch down dough again; cover and let rest 10 minutes.
Mix topping ingredients together until smooth. Roll dough into a 12x16 inch rectangle and spread a thin layer of topping on the dough, leaving a 1 inch strip along one of the short edges uncovered. Brush the uncovered, 1 inch dough strip with water. Beginning with the short, topping edge, roll up, pinch to seal the un-topped edge and cut into 12 rolls.
Place rolls in a greased 9x13 inch pan. Cover with a warm, damp towel; let rise in a warm place until doubled in size. Bake at 375° for 18 to 20 minutes or until golden. Enjoy!
Yields 12 rolls.
Adapted from original recipe by Wheat Foods Council