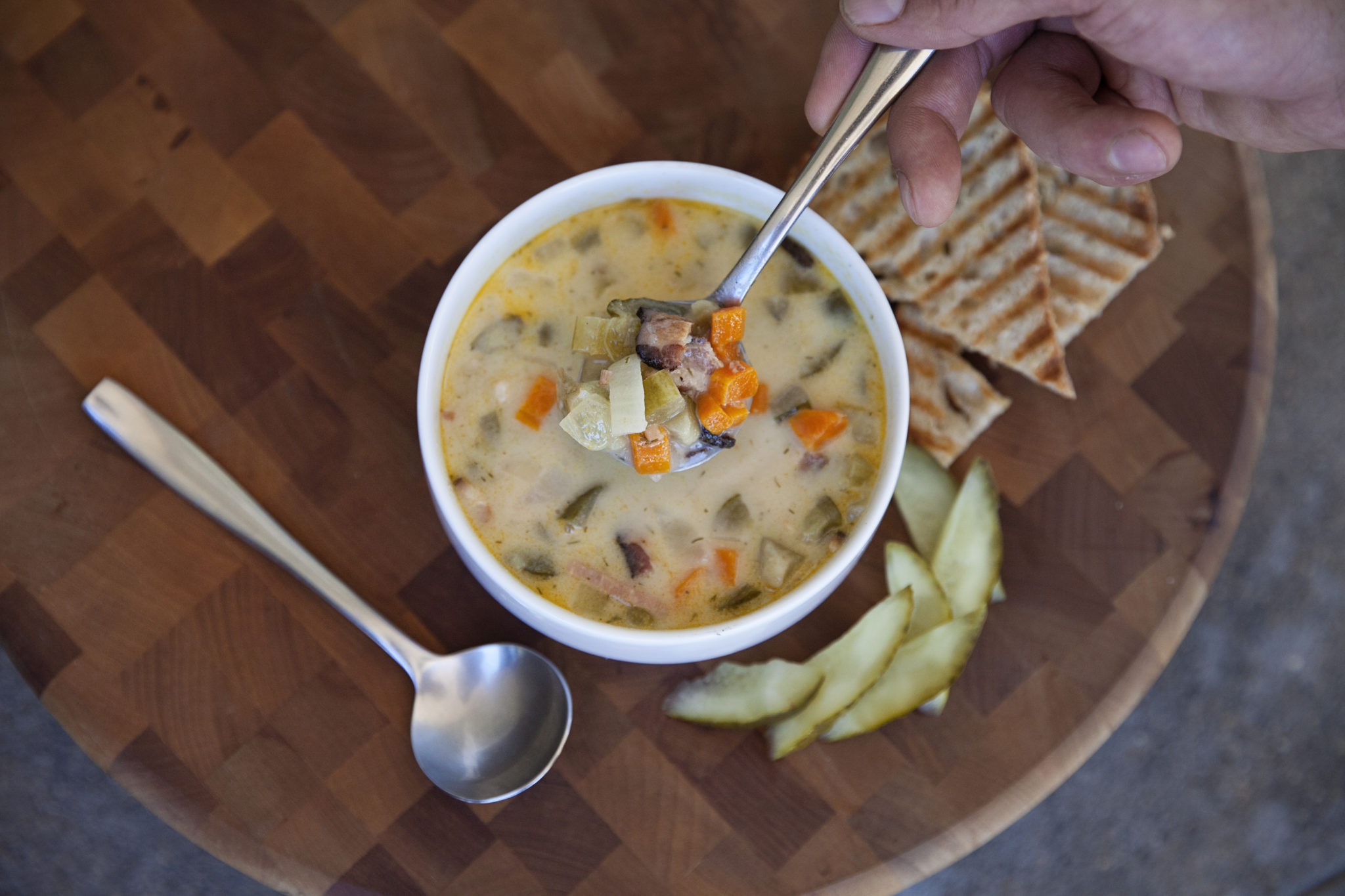 Jules' Bistro Dill Pickle Soup
Jules' Bistro (St. Cloud) & Stony Creek Dairy (Melrose)
Yield: 8-10 bowls
½ T oil, butter, or bacon fat
2 c diced carrot
2 c diced celery
2 c diced yellow onion
1 ½ c diced dill pickles
2 lbs diced Yukon Gold potatoes
1 c diced cooked bacon
5 c chicken broth
1 ½ t Old Bay seasoning
½ t salt
½ t black pepper
¼ t cayenne
1 t dill weed
1 c sour cream
2 c heavy cream
½ c unsalted butter
½ c all-purpose flour
Dice carrots, celery, onions, and dill pickles into small pieces to create a mirepoix, or in this case, "pickle poix." Combine in a bowl and set aside.
Dice potatoes and soak in cold water for 10 minutes. Drain off water and transfer potatoes to boiling water to cook. Cook al dente (almost fully cooked but still firm to touch).
Dice strips of cooked bacon and add to pickle poix.
Combine Old Bay, salt, pepper, cayenne, and dill weed in a small dish and set aside.
Whisk sour cream and heavy cream together well; store in refrigerator.
In a small sauce pot, melt ½ cup unsalted butter and gradually add flour to create a roux. Continue to cook and stir, incorporating all the flour until roux looks like a soft cookie batter.
Heat a large soup pot on medium high heat and add oil, butter or bacon fat, along with your pickle poix. Sauté vegetables until softened, but do not caramelize them.
Add seasonings to your pickle poix and stir thoroughly. Pour in chicken stock and bring to a rapid boil.
Add potatoes. Reduce heat to a simmer and allow to cook until potatoes soften.
Add roux and whisk vigorously, incorporating it completely. The soup should thicken slightly.
Remove from heat and allow soup to cool to room temperature. Whisk in cream mix. Refrigerate for later use or bring slowly back up to serving temperature. Enjoy!
Thank you to our primary 2019 directory sponsor Minnesota Farmers Union and Minnesota Cooks for sharing this local recipe. Find this recipe and more in the 2019 Minnesota Grown Directory. Order your free copy!