As the leaves turn their vibrant autumn hues, it's time to bake up some delectable pies! Think beyond pumpkin - this squash pie from Pahl's Market has a similar flavor profile with a delicate sweetness. With many kinds of squash available at farms and farmers' markets, experiment with different varieties to discover your personal favorite!
Gary Pahl has a clever trick for preserving the bounty of the season. He fills his freezer with zip lock bags, each pre-loaded with two cups of cooked squash so that he can whip up one of these comforting pies on a moment's notice. Find instructions below on how to prepare the squash so that you too can enjoy scrumptious pies all winter long!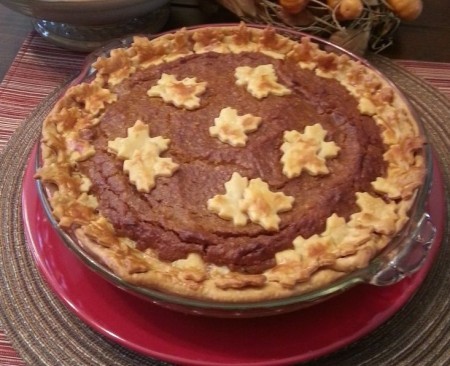 Ingredients:
2  9-inch pastry crusts: one to line the pan and a second optional one for decoration
2 cups mashed, cooked winter squash* (buttercup or butternut work well)
1/2 cup sugar
1 tablespoon butter, melted
1 teaspoon cinnamon
1/2 teaspoon salt
1/4 teaspoon ground ginger
1/4 tsp nutmeg
1/4 tsp ground cloves (optional)
1 3/4 cup milk
2 eggs, lightly beaten
1 teaspoon vanilla
Unsweetened whipped cream for serving
Directions:
1.       Prepare and roll out one pastry crust according to your favorite recipe.  Line a 9-inch pie plate with the pastry crust and trim to 1/2 inch beyond the edge of the plate. Flute the edge high.
Pro tip: do not prick pastry. Par-bake the crust for 4 minutes at 450 degrees. Cool thoroughly.
2.      Using a sieve, drain the cooked, mashed squash well to remove any excess liquid.
3.      In a large mixing bowl combine the drained squash, sugar, melted butter, cinnamon, salt, ginger, nutmeg, and cloves. Mix just until smooth, then stir in milk, beaten eggs, and vanilla. Do not overmix.
6.      Place the partially baked pie shell on oven rack and pour in the filling. To prevent overbrowning, cover edges of pie crust with tin foil. Use the second crust to top with decorative crust cut-outs at this time if desired.
7.      Bake for 30 minutes at 375 degrees.  Remove foil; bake about 20 minutes more or until nearly set. (Pie will appear soft in center but becomes firm after cooling.)
4.    Cool pie on rack before serving.  Garnish with unsweetened whipped cream, if desired. To store, cover and refrigerate.
Tip: to precook the squash, slice in half and remove the seeds (save them for roasting!). Place cut-side down on a baking sheet and roast at 400 degrees until fork-tender, about 35-40 minutes. You can pour a little water in the pan to help prevent burning, or line the pan with foil or parchment paper. Scoop out the flesh and let cool before using in this recipe or freezing for future use. Mash the cooked squash well, or puree in a food processor.