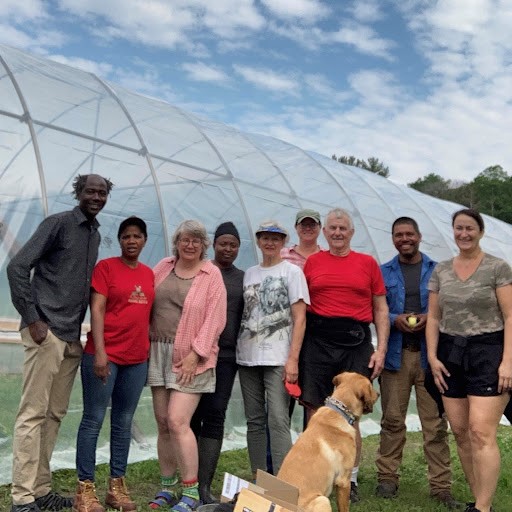 by Maeve Mallozzi-Kelly, Renewing the Countryside
The Minnesota Farmers' Market Food Hubs project began with the goal of giving small scale producers the opportunity to diversify market channels, aggregate products, and enable them to scale up to make more wholesale sales as well as create relationships with community institutions like schools and hospitals. Renewing the Countryside piloted this Farmers' Market Food Hub project in 2016 and now in 2023 there are nine established hubs across the state working hard to create sustainable local foodsheds! The Village Agricultural Cooperative, an established non-profit organization based in Rochester MN, is the newest hub to become part of Renewing the Countyside's Farmers' Market Food Hub Aggregation program with the opening of The Village Farmers' Market at the History Center of Olmsted County.
The Village serves 200 families that represent 24 different countries. Their mission is to source land in under-utilized urban areas to create family farms that produce culturally relevant foods which sustain indigenous traditions and nourish diverse communities. Chris Allen was brought on to the Village team to manage the new farmers' market and hub, and learned very quickly how dynamic the role of a food hub manager can be.
Food hub managers have their work cut out for them. They are responsible for aggregating and delivering food orders, which can lead to them driving 240 miles a week, managing the Open Food Network online ordering platform, writing grants to build out their hub infrastructure, and marketing the hub to new wholesale buyers and farmers' market customers. No two days are the same and hub managers are constantly finding creative ways to increase local food access in their communities.
The biggest issue The Village, and their hub, contends with is land access for their farmers. To address this, as well as adapt to the shorter Minnesota growing season that many of the farmers are unaccustomed to, they have wanted to build a high tunnel for the past five years. A high tunnel will allow them to grow culturally relevant foods that they can't afford in specialty stores and that they weren't able to grow before. It will also allow them to extend the growing season making it easier to sell to local institutions like schools.
The original planned location for the high tunnel experienced major flooding, and after a delay in construction they ended up losing the space. However, due to Chris' tireless work and their partnership with the History Center of Olmsted County, they started the building process last fall. This spring, ten people came to volunteer and in two hours they had the high tunnel skin on! A few final steps are needed to make the high tunnel fully functional, including installing the heater and fans, and amending the soil, but their goal is to have it ready to start planting in the late summer and fall.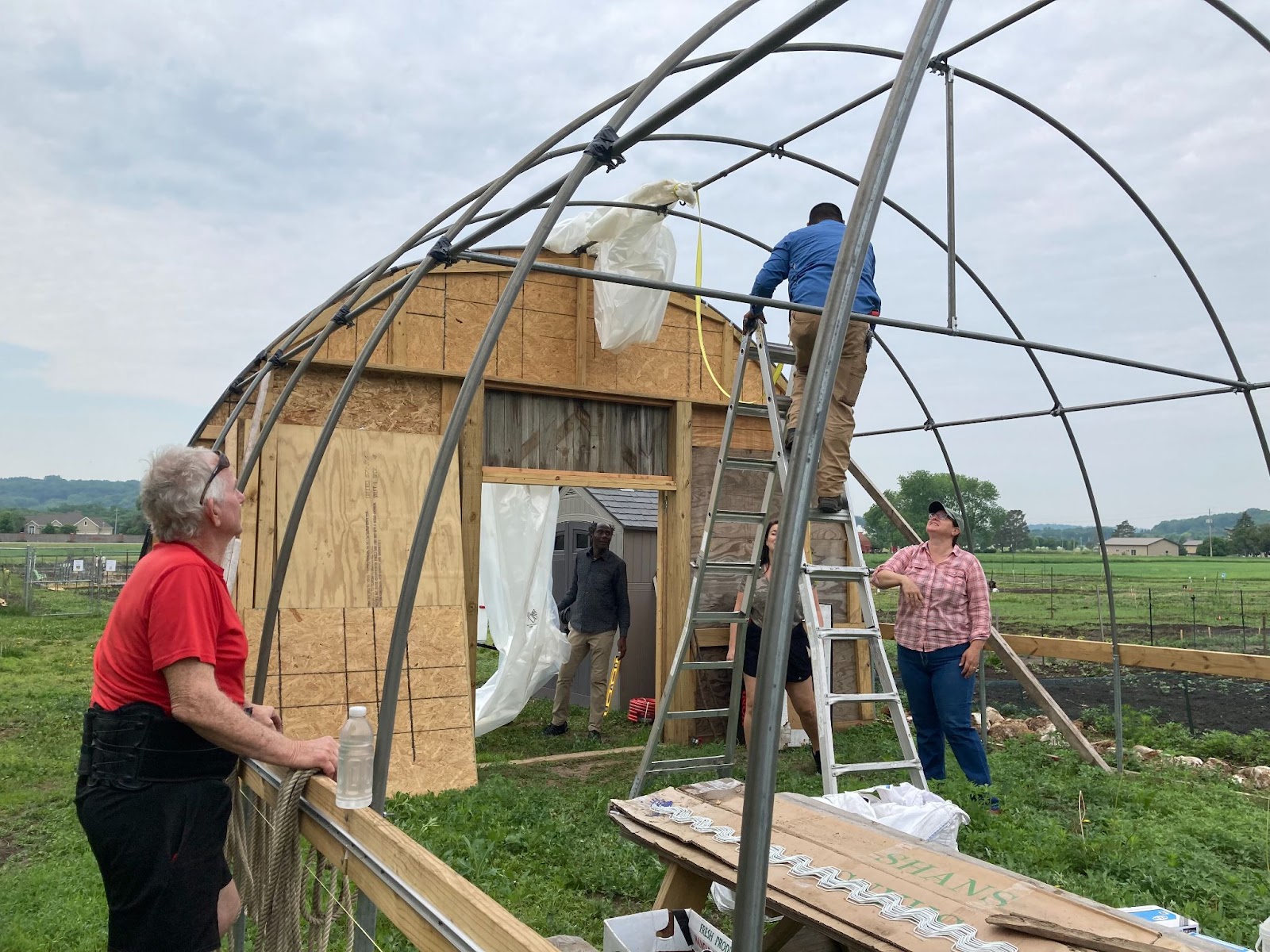 "It felt so exciting… it took well over a year… putting the [high tunnel] skin on it as one little community of people in under two hours, it felt so exciting… such a transformation!" - Chris Allen (The Village Farmers Market and Food Hub Manager)
By putting in a high tunnel they are also growing their food hub by helping their farmers sell to a broader range of buyers in their community. When farmers sell their products to a food hub they have access to sales channels they wouldn't otherwise have. Making new connections with schools, hospitals, restaurants, and individual customers takes an extraordinary amount of time that most small-scale farmers don't have. They are often not able to meet large orders from institutions, like schools, on their own. However, when partnering with a food hub, farmers can sell their products for a competitive price and access larger markets that can help them scale up their business. Through their food hub efforts The Village has been very intentional about prioritizing BIPOC and emerging growers to stay true to their mission.
Visit them at their market on Tuesdays from 4-7 p.m. at the History Center of Olmstead County and sign up for their food hub market share boxes that you will be able to pick up at the market starting this August!
If you have questions or would like more information about the Minnesota Farmers' Market Food Hub in your area, visit farmersmarkethub.org or contact sara@rtcinfo.org.