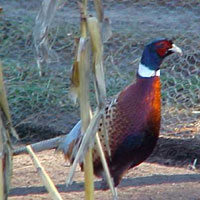 Oakwood Game Farm: Raising Birds in the Bold North
Since its founding in 1967, Oakwood Game farm has grown from a small hobby farm to a 100-acre operation that plays an important role in the Minnesota hunting industry. Named after the oak tree that stands at the center of the farm, this family operation looks to the tree as a model of strength and dignity that they have incorporated into their business since day one. We talked with Katie Berning, one of the farm owners, to learn more about life on a game farm, and the challenges of raising birds in the cold Minnesota winters.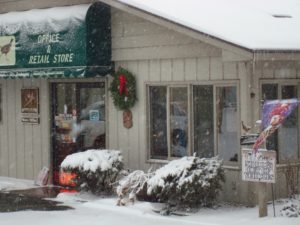 Contrary to popular belief, Oakwood Game Farm in Princeton is not a hunting preserve. Rather, they raise birds that are sold to hunters and hunting preserves. This enables Oakwood to focus on raising healthy high quality birds without having to worry about the logistics of hosting hunters on their farm. On the farm, there is an office, a small retail store, an incubator building, and an expanse of flight pens. The store offers whole smoked and fresh pheasant along with brats, sticks and jerky. In addition, hunters can buy birds directly from the farm for training their dogs at home.
The incubator building is where eggs are hatched. Eggs are collected from the breed stock birds and brought inside where they are washed, dried, and cooled until they are ready to incubate. Some breed stock is brought inside in the early spring to expedite the egg production, and encourage birds to lay despite the cold temperatures outside. After chicks hatch, they stay inside in the warmth for their first eight weeks of life. Then, they are sent outside where they live in the flight pens. The majority of birds on the farm live in outside enclosures that mimic their natural habitat.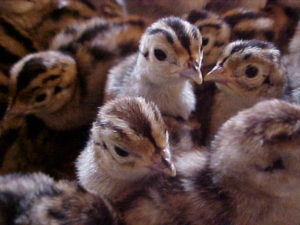 Yearly, the farm raises about 75,000 pheasant chicks and 40,000 chucker partridges. Though neither species is native to the region, pheasants do live wild in Minnesota year-round, and do well in the winter weather. On the coldest days, the birds puff out their feathers and hunker down to stay warm. Fly pens are planted with crops like rape, milo, and sorghum for birds to hide in. Chucker partridges are not usually found in Minnesota, so the family goes to extra lengths to ensure the health of these birds, such as putting up as wind barriers around flight pens and bringing the birds inside during especially cold periods.
Regardless of the species, weather is one of the biggest challenges on the farm, as the cold takes a toll on bird health and safety. Even after 50 years in the game business, unpredictable cold spikes present a challenge for the farm. The weather makes it tough to find labor as well. Katie noted the consistent challenge of finding enough staff to get through the winter, especially when temps dip below zero.
Disease is another pressing issue, as one sick bird could wipe out an entire operation. Katie spoke to this saying, "Bio-security has become a huge thing. That is our biggest current event issue. It has exploded in the last few years. We have participated in voluntary Avian Influence testing for the past 10 years. As soon as we could we did, but a lot of people don't because it costs money". Aside from regular testing of birds, the family does not allow visitors in the flight pens, and encourages hunters to leave their bird crates in the car.
Despite all of these challenges, Oakwood Game Farm continues to find success, and offers years of expertise to their customers. This year they will celebrate 53 years of their family run business. Check out their website to order fresh/smoked meat, hatching eggs, and day-old chicks online. Learn more at Minnesota Grown.