The Fox family farm was established in 1860, when 56-year old Fredrick Fox moved his family to Minnesota from New York. He purchased the 80-acre farmstead for 10 dollars an acre. Fast forward to 2020, and the 1,200-acre farm is run by the 5th and 6th generations of Fox's.
Today the family members actively operating Fox Premium Beef are Dan Fox (5th generation), his two sons, Luke and Jon, and daughter-in-law Karen who manages accounting and sales. We had the opportunity to speak with Dan and Karen to learn about the farm-to-table (and restaurant!) business.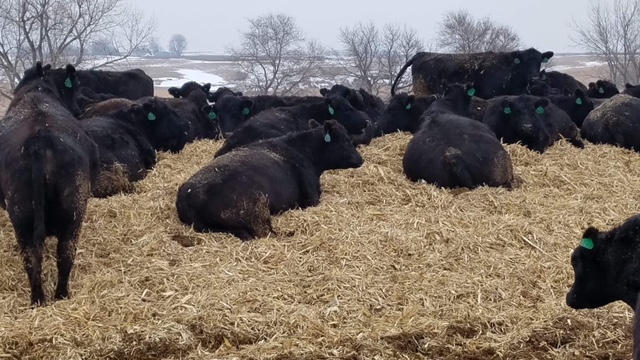 The 1,200-acre farm includes Angus cattle and row crops like soy, corn, and alfalfa as well as Holsteins raised for a dairy farm in Wisconsin. The Angus beef is raised for direct-to-customer sales. The cattle are raised on a mix of hay grown on the farm and excess produce from nearby processors. Instead of going to waste, the cattle chow down on a variety of agricultural "byproducts" including potato peels, sweet corn silage, and wheat middlings from nearby flour mills. When the ethanol plants are running, they also eat corn mash. This year with the wet spring, the Fox family adapted to the weather by planting Sorghum Sudan Grass. Since they couldn't plant as early as usual, this variety of grass was a good option to plant in July. With a short 65 day turn around to harvest, the cattle had a new addition to their feed ration.
When it comes to providing excellent customer service, Karen shared some ways she's developed the farm's online presence to be easily accessible for customers, "We have the Fox Premium Beef Facebook page, and have also partnered with Barn 2 Door to have an online store running on our website." The online store includes a free downloadable app which allows customers to order on-the-go and customize their orders. The store and app allow customers to view pricing and order any time of day – greatly increasing sales. The addition of Facebook helped to grow their customer relationship with by sharing an inside look at life on the farm and share special announcements.
If you'd like to try Fox Premium Beef at a local restaurant, Karen recommends the famous Amboy Cottage Café in Amboy, MN. Karen spoke to the dedication of the Lisa Durkee, the owner and chef at Amboy Cottage, "She's up at the crack of dawn and everything is made from scratch. It's so unique and fresh. Our town is just 500 people, but folks will drive in from the cities to eat. The restaurant runs out of a renovated gas station that was going to be torn down. It's a wonderful partnership that stands for local." The popular day trip destination's menu features items like the German Burger and Seasoned Coffee-Rubbed Steak.
Karen shared that their customers want to buy local and know where their food comes from. Karen elaborated saying, "Labeling can be misleading, and we can offer a local product where customers know exactly what they're purchasing – premium Angus beef raised at our farm." Their focus is raising restaurant quality beef slowly and sustainably that is nicely marbled, lean, and tender. Dan's voice shined with pride as he described the family's farm-to-table beef, "I am really proud of the process from conception to delivery - we are there. We are truly single source."
Fox Premium Beef sells meat in ¼, ½, or Whole to the processor of choice for pickup by the customer.  Odenthal's in New Prague, Schmidt's Meat Market in Nicollet, and Ryker's City Meat Market in Jeffers are popular choices. For customers further out, shipping is available anywhere in Minnesota. For retail/restaurant orders, Fox Premium Beef can deliver or do farm pick up.
Support your local farmer with you next meat purchase. Search all Minnesota Grown meat producers across the state.