Are your beautiful summer flower pots starting to turn lanky and ready for a fall refresh? Mums are commonly known as great fall flowers, but there are many other Minnesota Grown plants you can choose to dress-up your garden planters too.
Members Wagner Garden Center and Drummer's Garden Center shared some ideas for additional flowers that add fun color and texture this fall.

Calibrachoa
Looking for a trailing plant option? These small, petunia-like flowers can handle chilly frosty nights down to about 28 degrees. When it gets colder, cover calibrachoa with a bed sheet or other fabric to make them last a bit longer through fall.
Dusty Miller
With its silver white foliage, this plant mixes well with other colors and can handle temperatures below freezing.
Echinacea
Butterflies love coneflowers and so do we! The Echinacea Sombrero Series is a new type of coneflower that has a longer bloom and sturdy stems that will hold-up well in many container garden settings. You can find it in purple, red, coral, yellow, or white.
Heucherella
For a smart investment, consider planting colorful heucherella in your container gardens. In late October, this perennial can be transferred into the ground. With regular watering until the ground freezes – and a little luck – they'll come back in spring for you to enjoy again.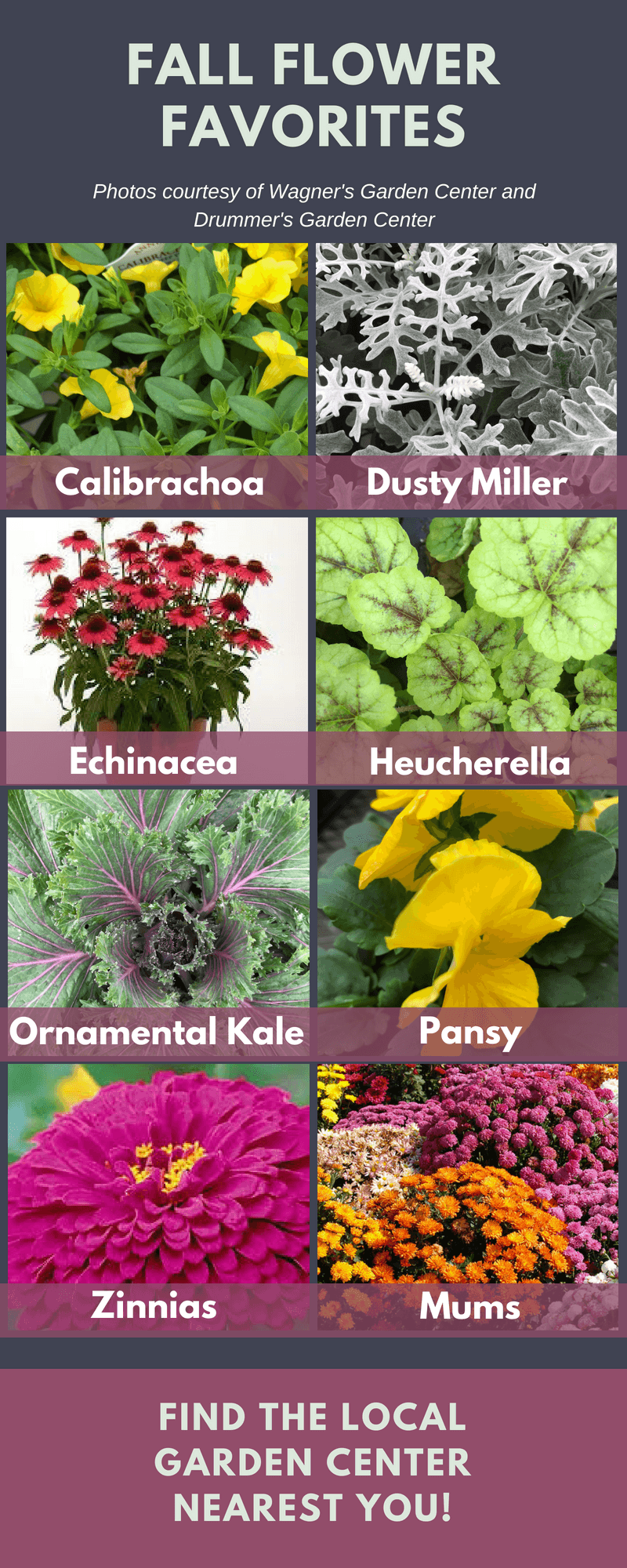 Pansy
Antsy gardeners often await pansies in spring because they can handle the cool evenings until the risk of frost has passed. This trait makes pansies a great option for fall as well! Even better, the beautiful orange and yellow varieties mix well with other autumn plants.
Ornamental or Vegetable Kale, Swiss Chard, and Beets
Containers full of unique foliage have been a fun trend for a few years. When considering ornamental or vegetable kales, Swiss chard, and beets for your arrangements, mix a variety of colors, shapes, and textures for maximum eye-appeal.
Zinnias
Known for their cheery colors (shades of pink, orange, purple, red, white, and yellow), this classic summer flower is frost tolerant and easily transitions into fall as well.
Ready to go out and shop? Find the local garden center nearest to you for fall flowers and expert planting advice.