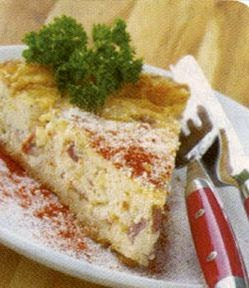 This delicious cheesy-good recipe comes courtesy of Tammy Stephens of Eichtens Cheese. In under an hour, you can bake a yummy quiche that is great for brunch or any other meal. Consider making it with great, local Minnesota Grown ingredients. This recipe serves 6.
Ingredients
9" pie crust
1 1/2 cups half and half
4 eggs
8 oz. bacon, pan fried or baked until crisp, and roughly chopped
10-12 oz. Eichten's Tomato Basil Gouda
1 Tbsp. chopped parsley
1/2 tsp. paprika
Directions
1. Preheat oven to 400 degrees.
2. Prepare crust and flute edges.
3. Beat eggs slightly.
4. To eggs, stir in half and half, bacon, cheese, parsley, and paprika.
5. Pour mixture into pie crust.
6. Bake for 30-40 minutes until eggs are cooked.
Serve warm and enjoy!