Delicata squash is unique in that the skin is deliciously edible and soft when cooked, eliminating the need to peel. It also has a lovely natural sweetness that you can play up or down, depending on the seasonings you choose. For this recipe, we add some simple savory spices and a touch of local maple syrup for a perfectly balanced side dish that pairs well with any winter meal.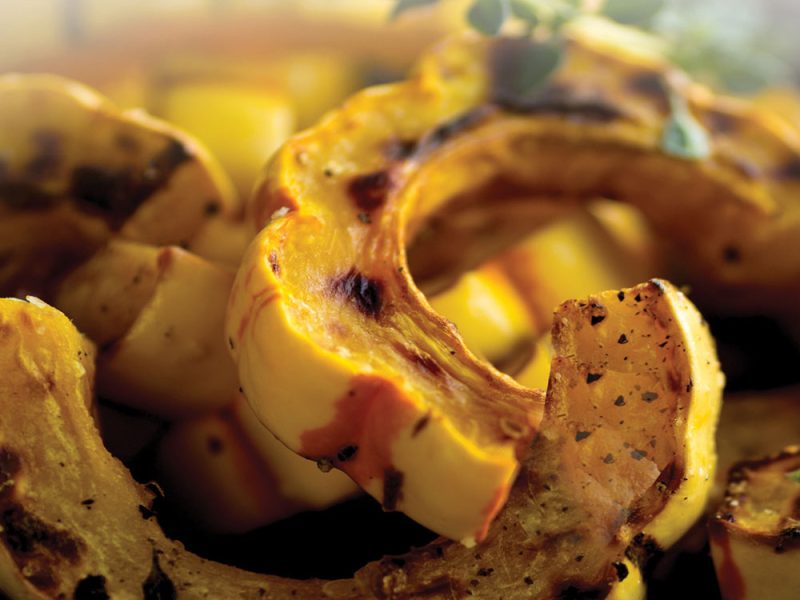 Ingredients:
3 medium delicata squash (3 to 3 ½ pounds total)
3 tablespoons olive oil or avocado oil
1 teaspoon salt
1/4 teaspoon pepper
3/4 teaspoon garlic powder
2 tablespoons local maple syrup
1-2 tablespoon butter, melted
Directions:
Preheat your oven to 425° F and place two sheet pans in the oven. Heating the pans before adding the squash creates a caramelized outer crust.
Trim the ends off the squash, cut in half lengthwise, and scoop out the seeds. Place the squash cut side down and slice into ½-inch-thick half-moons.
Transfer slices to a large bowl. Add oil, maple syrup, and spices and toss to evenly coat.
Carefully remove the hot pans from the oven and arrange the squash in a single layer. Avoid overcrowding to ensure nice caramelization.
Bake for 20 minutes, then remove the pans from the oven and brush the squash slices with melted butter.
Bake for an additional 5 minutes or until slices are browned on the bottom and tender when pierced with the tip of a paring knife.
Serve alone as a beautiful, simple side or mix with other winter stars like kale, cooked quinoa or rice, roasted Brussel sprouts, pecans, or cranberries.