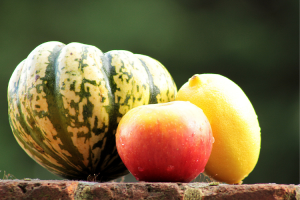 This delicious fall recipe is featured in the Fall edition of the Living Local publication. Living Local will reignite your love of local foods through seasonal, mouthwatering recipes and the latest info on what is in-season, starting with this fall-themed issue. Order your copy.
Ingredients:
1 1/2 pounds uncooked winter squash, peeled & cut into cubes
1/2 pounds fresh cranberries (optional)
2 to 3 apples, chopped
1/4 cup raisins
Juice & grated peel of 1 small orange
1 1/4 tablespoon maple syrup (or honey)
Dash each of salt & cinnamon
Directions:
Preheat oven to 350 degrees.
Combine squash, cranberries, apples and raisins in a small buttered casserole dish.
Combine juice, peel, syrup and salt, and pour over squash mixture.
Lightly dust with cinnamon, cover, and bake until squash is tender, approximately 30 to 45 minutes.
Enjoy!