Find fresh, local strawberries with the Minnesota Grown Directory published by the Minnesota Department of Agriculture. Our online Directory provides quick access to farm details, links to their website and access to Google Maps driving directions.
Strawberries are a sweet summer staple, and the first fruit to ripen each year. Strawberries are among the favorite fruits of Minnesotans, top all kinds of great dishes, and offer a fun family experience while visiting a farm for strawberry picking! More information about storing and preparing strawberries is presented below along with other strawberry facts.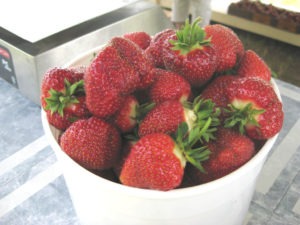 Minnesota strawberry season generally begins in early to mid June in southern and central Minnesota. Northern Minnesota usually starts picking strawberries 2 weeks after southern Minnesota. The length of the season varies from year to year depending on the weather conditions but usually lasts at least 2 full weeks, sometimes closer to 4 weeks.
Availability:
To ensure a fun, fruit-filled experience, it is always a good idea to call ahead to check on picking conditions and availability before visiting a farm to pick berries. Minnesota's unpredictable weather can change the starting and end date of berry season from year to year and in-season temperatures and precipitation can change availability from day to day. Most pick-your-own farms offer daily picking updates on their telephone system to keep their customers updated.
Picking and Storage:
Pick red, ripe strawberries with their caps and stems. Keep strawberries cool – don't leave them in a hot car or in direct sunlight; refrigerate immediately. Store in shallow containers so as not to crush the berries; do not remove the caps until ready to use or process. Use within three days.
Jam and Jelly Making Tips
Because of their flavor and coloring, Minnesota Grown berries make ideal jams, jellies and preserves.
Do not reduce sugar or use sugar substitutes. The exact amount of sugar, fruit and pectin is necessary for a good set. Do not double recipes; mixture may not set.
Use fully-ripened fruit and fruit juice at room temperature to help sugar dissolve. Crush berries one cup at a time; a potato masher works well. If using a food processor, pulse (on/off) to chop fruit – do not puree!
You can use unsweetened frozen fruit. Thaw the fruit to room temperature and crush to equal the same amount of crushed fresh fruit.
For freezer jam, use clean plastic containers with tight-fitting lids that have been rinsed with boiling water.
For recipes and other tips for preserving Minnesota berries, visit the University of Minnesota Extension Service's web site.
Freezing Tips:
Any variety of berry is freeze-able, and strawberries, blueberries, and raspberries stand up remarkably well when frozen. It is important to keep in mind a few key pieces when preparing them for freezing, however, to ensure the freshest taste later on.
1.)    Do not wash your berries until you are ready to use them! Berries have a natural protective coating that keeps them from spoiling. If you wash this off before immediate use, you will unintentionally cause them to start going bad.
2.)    Pick through your berries and remove any overly soft fruit, stems or leaves.
3.)    When you are ready to freeze your berries, fill up a big bowl (or your sink) with cold water. Drop in the berries and swish them around gently for no more than 10 seconds before draining them in a colander. Place them on paper towels to dry them completely. Remember, if you soak the berries for too long, they will absorb water and lose their taste!
4.)    Line a cookie sheet or pan with wax paper (or other lining) and layer your berries. Try to see that they are not touching; you want to flash freeze them individually. Place the pan on a level freezer shelf for 30 minutes.
5.)    Once all berries are frozen in this way you may bag them in labeled zip lock bags. Freezing your berries in this way (vs. dumping them in the bag all at once), results in berries that hold their shape much longer when thawed and cooked. And, because they are individually frozen, they won't stick together – so you can grab a few for a smoothie, pancake batter, or to add to your yogurt without having to thaw the entire bag!
Once frozen, your berries will keep for 10 to 12 months. To thaw them, simply place them in the refrigerator! Don't thaw blueberries if you're going to bake them into anything. The "melted" juice will turn your cakes, muffins, and other baked goods blue, and your pie will be runny. Toss each cup of frozen berries with 1 or 2 teaspoons of flour, then follow your recipe as usual!
If you do thaw your frozen berries before use, put them in a mixing bowl and toss with 1 tablespoon sugar for each quart of berries, or they will be overly-tart when defrosted.