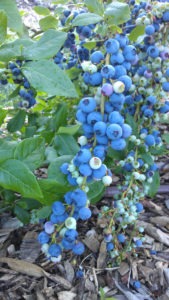 Find fresh, local blueberries with the Minnesota Grown Directory published by the Minnesota Department of Agriculture. Our online Directory provides quick access to farm details, links to their website and access to Google Maps driving directions.
Did you know the blueberry muffin is Minnesota's state muffin?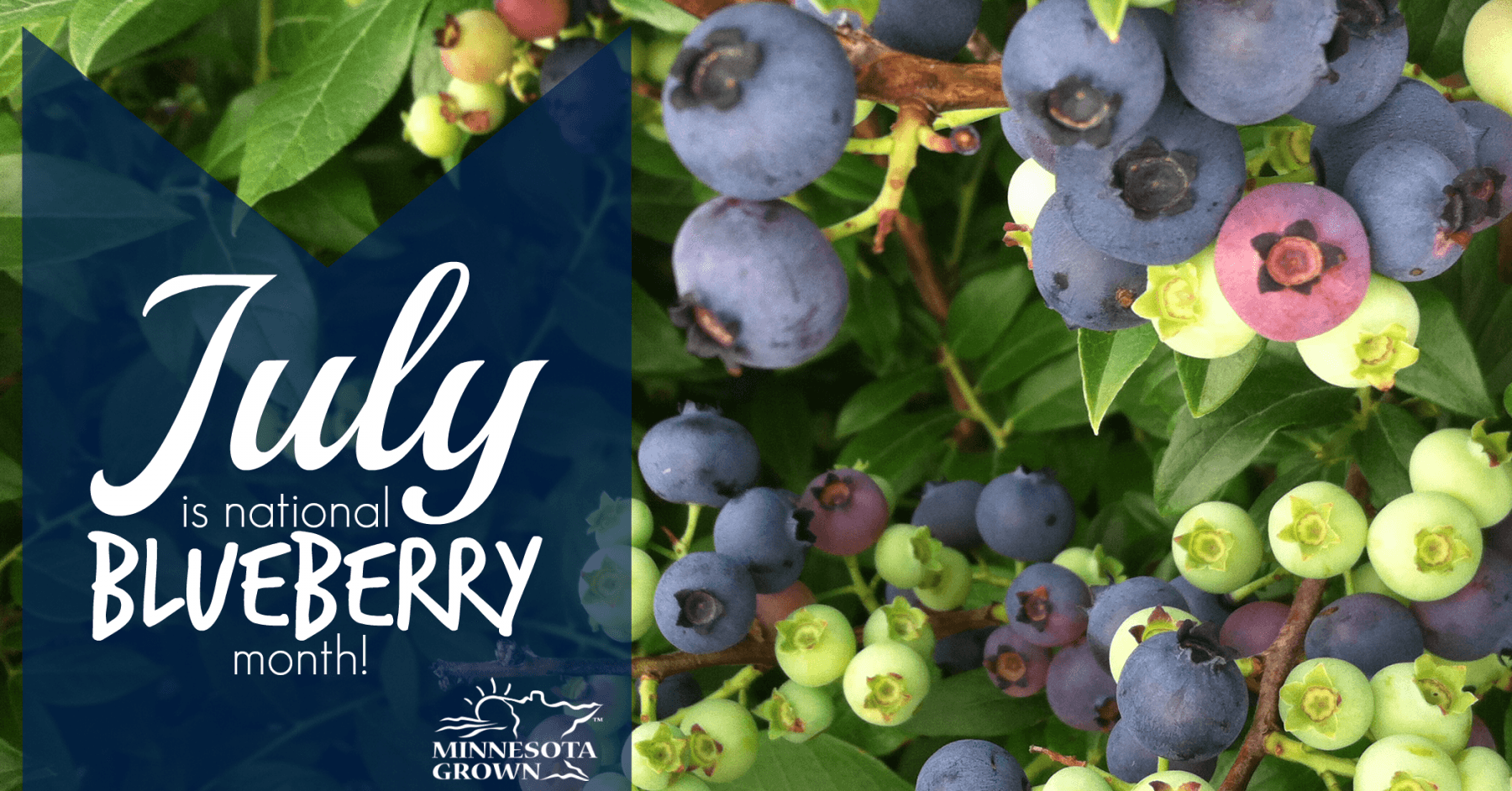 It is easy to find blueberry producers and pick-your-own farms near you using the Minnesota Grown free Directory or online interactive map! The free printed Minnesota Grown Directory has easy-to-use lists, an index, and farms by region.  Our Directory 37 blueberry farms selling pick-your-own, pre-picked berries, or both.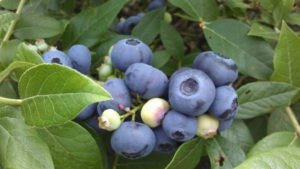 Blueberries are one of the great Minnesota Grown foods that are both good and good for you! Check out the info-graphic below (click to expand) for some nutritional facts from the U.S. Highbush Blueberry Council.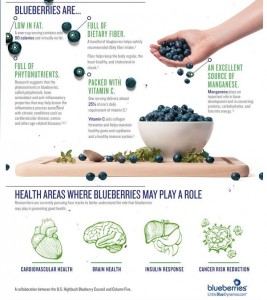 Blueberry season begins toward the end of strawberry season. In southern Minnesota blueberries are usually ready around the July 4 holiday. As with strawberries, northern Minnesota is usually starting their blueberry season 2 weeks after southern Minnesota begins. Blueberry season usually lasts at least 3 full weeks depending on the variety and weather conditions.
Follow this link if you are interested in growing blueberries in your home garden, or this one if you would like help choosing cultivars that best suit your tastes!
Picking and Fresh Storage tips:
To pick, hold the cluster in your hand and gently roll your thumb over the berries; ripe berries will separate from the plant. Sort out twigs and leaves prior to refrigerating. Blueberries may be placed in deep containers during picking and storing. Do not wash until ready to use or process. Will keep in refrigerator up to two weeks.
 Freezing tips:
Any variety of berry is freeze-able, and strawberries, blueberries, and raspberries stand up remarkably well when frozen. It is important to keep in mind a few key pieces when preparing them for freezing, however, to ensure the freshest taste later on.
1.)    Do not wash your berries until you are ready to use them! Berries have a natural protective coating that keeps them from spoiling. If you wash this off before immediate use, you will unintentionally cause them to start going bad.
2.)    Pick through your berries and remove any overly soft fruit, stems or leaves.
3.)    When you are ready to freeze your berries, fill up a big bowl (or your sink) with cold water. Drop in the berries and swish them around gently for no more than 10 seconds before draining them in a colander. Place them on paper towels to dry them completely. Remember, if you soak the berries for too long, they will absorb water and lose their taste.
4.)    Line a cookie sheet or pan with wax paper (or other lining) and layer your berries. Try to see that they are not touching; you want to flash freeze them individually. Place the pan on a level freezer shelf for 30 minutes.
5.)    Once all berries are frozen in this way you may bag them in labeled zip lock bags. Freezing your berries in this way (vs. dumping them in the bag all at once), results in berries that hold their shape much longer when thawed and cooked. And, because they are individually frozen, they won't stick together – so you can grab a few for a smoothie, pancake batter, or to add to your yogurt without having to thaw the entire bag!
Once frozen, your berries will keep for 10 to 12 months. To thaw them, simply place them in the refridgerator! Don't thaw blueberries if you're going to bake them into anything. The "melted" juice will turn your cakes, muffins, and other baked goods blue, and your pie will be runny. Toss each cup of frozen berries with 1 or 2 teaspoons of flour, then follow your recipe as usual!
If you do thaw your frozen berries before use, put them in a mixing bowl and toss with 1 tablespoon sugar for each quart of berries, or they will be overly-tart when defrosted.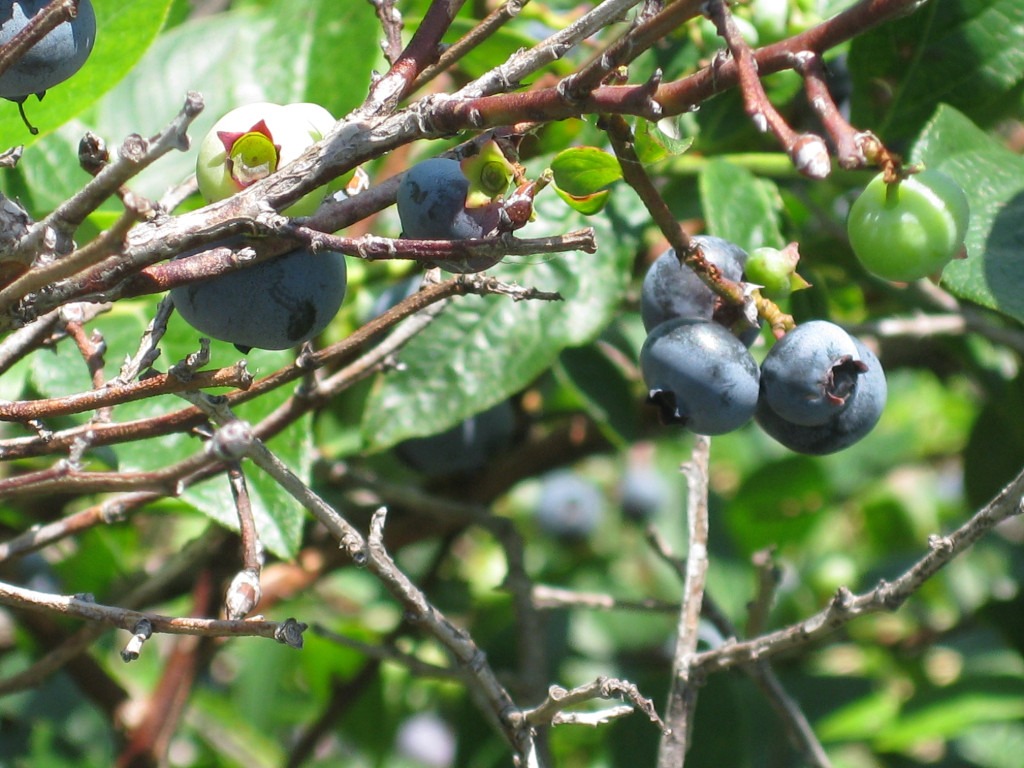 <!–