North Star Farm Tour
September 28 @ 10:00 am

-

September 29 @ 5:00 pm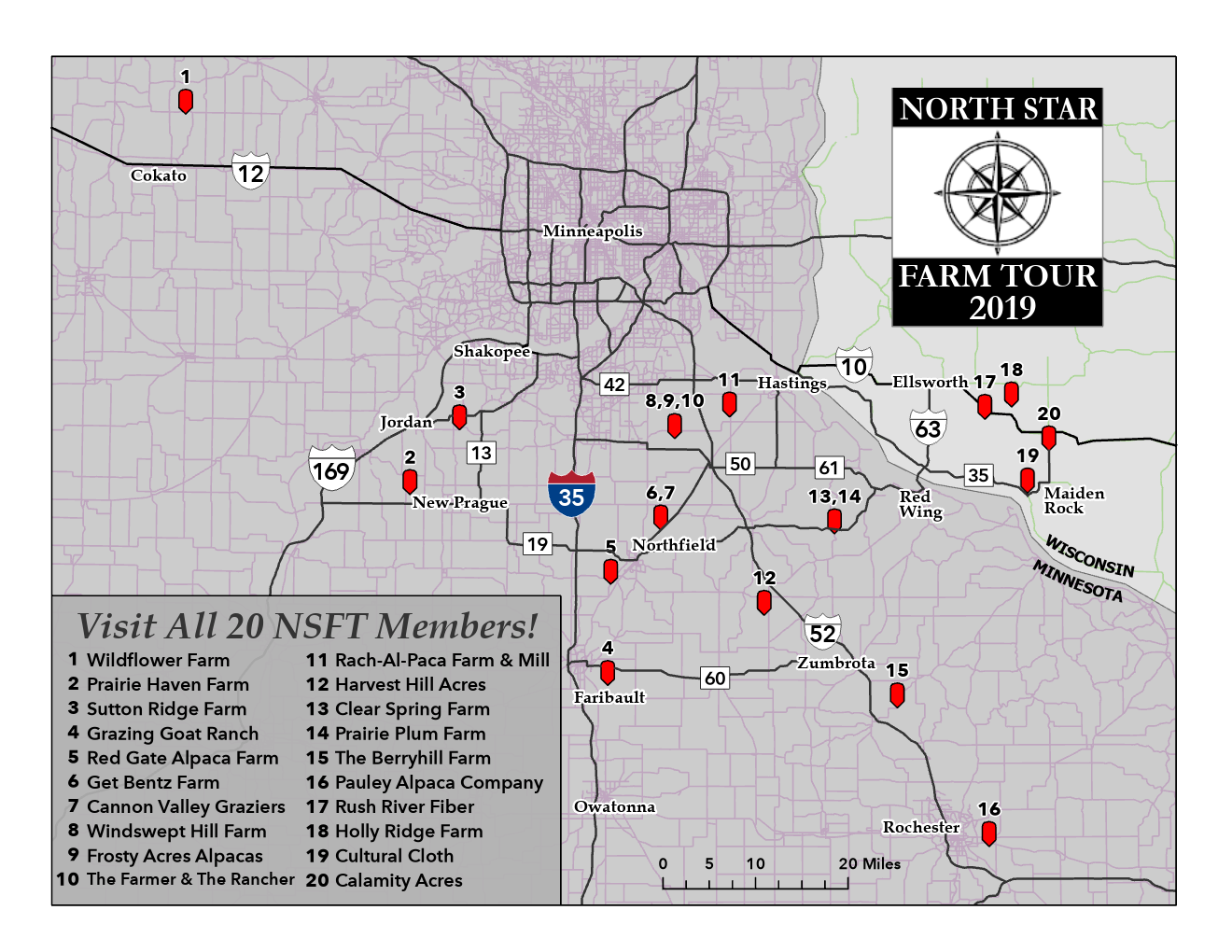 The public is welcome to create a self-guided, free tour of 16 festivals featuring 20 unique family-owned farms on Saturday Sept. 28 and Sunday Sept. 29, 2019 from 10 am to 5 pm. A digital map at www.northstarfarmtour.com offers information about each of the farms and what they will showcase that weekend as well as year-round: raw and processed fibers; finished yarns; artisan handcrafts; farm-raised meat, grains, and produce; farm-raised foods; classes; and agri-tourism experiences. Meet the shepherds and visiting artists, enjoy free demonstrations and special events, sit down for hands-on activities, or register in advance, online, for Land Stewardship Project's classes on Healthy Soils (free at Get Bentz Farm in Northfield) or Farm Dreams for those aspiring to own a farm ($20 for LSP members; $40 for non-members) at Holly Ridge Farm in Ellsworth, WI. Enter the drawing at each farm you visit to win cash & prizes, including swag from Minnesota Grown and a $200 grand prize from Minnesota Grown member Fluegel's Farm, Garden & Pet in Rosemount, MN.
Be sure to pay close attention to the beautiful, new handwashing stations and public safety messaging about safe, fun farm visits from the Minnesota Department of Health and Upper Midwest Agricultural Safety & Health Center (UMASH) — available in 18 different languages for the well-being of all of our visiting families.
We are very proud to feature two farm-to-fashion projects at this year's tour to showcase the wide diversity of what can become of farm-raised fiber in the hands of artists. Our educational "Sock Project" offers a limited-edition wool/alpaca sock in partnership with 11 of our members and Minnesota Grown for sale at all sites. We also will unveil the first two haute couture garments fashioned entirely by farm-raised fiber and eligible for a Minnesota Grown label! A man's suit of yak fiber and five-piece woman's ensemble of wool, alpaca, and yak leather are the creations of Minnesota designers Tim and Thom Navarro and their label TIM+THOM from the fiber of 9 of our members and the weaving and felting talents of Tracy Krumm of Textile Center. Garments will be on display at Windswept Hill Farm in Farmington all weekend to promote Textile Center's 25th Anniversary Gala on Monday Oct. 21 in Minneapolis (tickets at www.textilecentermn.org) where one of the garments will be auctioned. The fate of the other will be decided by North Star Farm Tour following the tour. Don't miss this chance to enjoy a beautiful, fall weekend outdoors courtesy of Minnesota Grown and all of us who are proud members!