Bison Cooking Demonstration
September 15 @ 10:30 am

-

1:00 pm

Free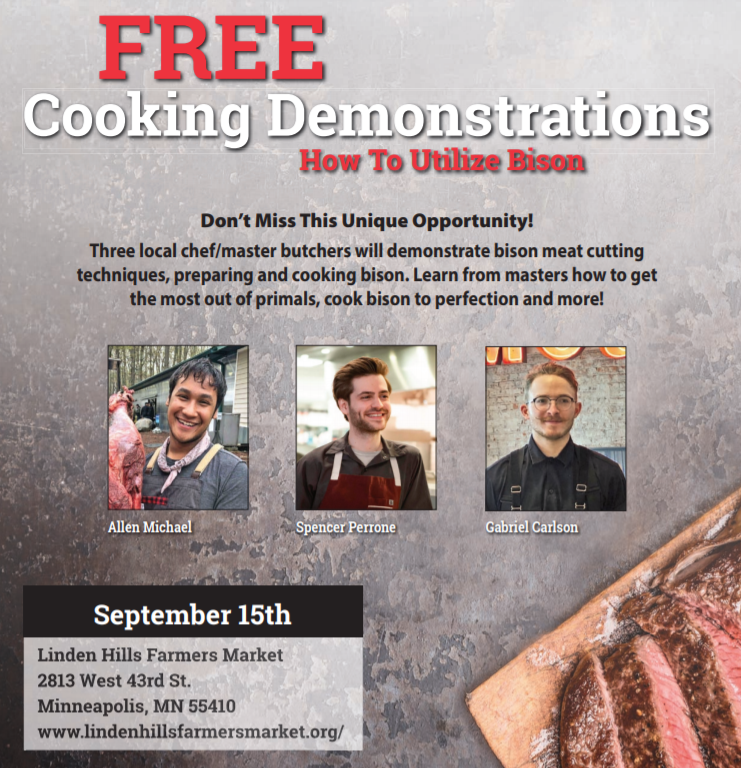 Three local chef/master butchers will demonstrate bison meat cutting techniques, preparing and cooking bison. Learn from masters how to get the most out of primals, cook bison to perfection and more!
Beginning at 10:30 a.m. September 15,  Allen Michael of the Sioux Chef Indigenous Kitchen, Gabriel Carlson of Lowery Hill Meats, and food truck chef Spencer Perrone will provide cooking demonstrations, meat cutting techniques, and cooking tips. Michael is a sous chef with the Sioux Chef Indigenous Kitchen, Carlson is a butcher at the Lawry Hill Meat market, and Perone works in a popular Twin Cities barbecue food truck.
Michael, Carlson and Perrone will each be preparing a specialty featuring bison meat for Linden Hills shoppers to enjoy. Those specialties will include bison street tacos, bison sliders, and bison barbecue.
The Minneapolis event is being co-sponsored by Sioux Chef Indigenous Kitchen, the Minnesota Bison Association, Silver Bison Ranch LLC , Northstar Bison, Hess Meats, and Eichten Bison. Silver Bison LLC is donating the ground bison for the event.